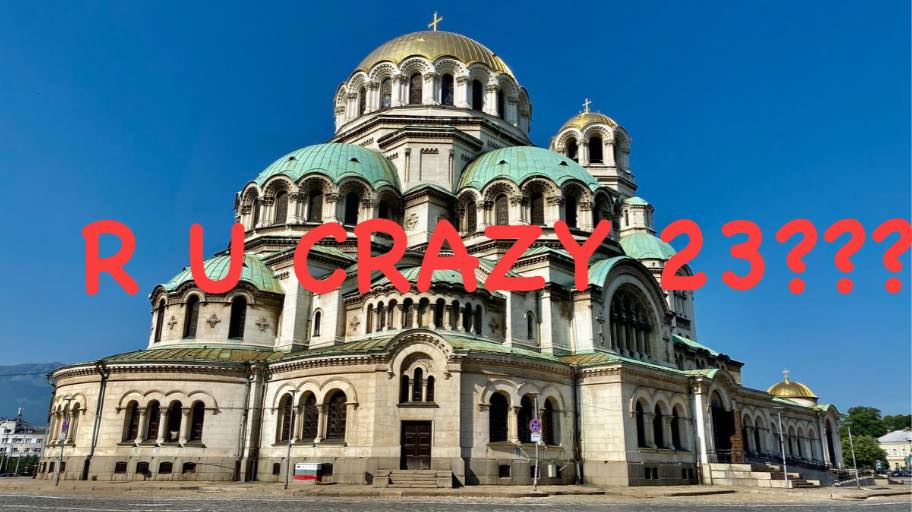 ---------------------------------------------------------------------
----- PAY CRAZY HASH NOW to Minister of Corruption ------------
---------------------------------------------------------------------
CRAZY HASH TRIP 7-10 oct goes to Bulgaria with chance to hash with Sofia HHH, run Sofia Marathon (5, 10, 21 or 42km), and have a crazy daytrip with STH hash?

Also, an appendix Crazy Travel Hash continues with a semi-organized post lube to Thessaloniki from 10 oct

Rough outline of program below!

CRAZY HASH TRIP 23
6 or 7 oct fly to Sofia
7 oct afternoon short Sofia HHH or STH, after joint dinner
8 oct Sofia Marathon 5, 10, 21 or 42 km. Joint dinner
9 oct Crazy daytrip to secret spot with hash. Closing dinner.
10 oct fly home

Wizzair has direct flights to/from Sofia 7 & 10 oct.
PRE LUBE
Friday October 6th 20:00
Hotel Connect Skavsta Airport
Hares: LIMP and Slicky Licky
There will be a walkers trail (no runners trail).
Two drink stops(!!) and a circle.
Afterwards: a beer tasting (please bring some beer to contribute, no rules here, it'll work itself out)
We advise to have eaten dinner beforehand.
Note: to arrive in time, we suggest you take Flixbus at 17:00 or 18:00 from Stockholm Centralen.
Please let me know if you are coming by posting here, so we know how to dimension the drinkstops.
POST LUBE
A Post lube with limited organized stuff from 10 oct.
If U wanna have longer holiday and have some Greek sun, Thessaloniki is a 5 hour bus ride away. A Crazy hash bus Will take us via scenic alcostop with lunc n winetasting en route.
A STH in Will be Held on 11 oct in Greece before U fly home.
HOTELS
U can start booking rooms. Hotels below have possibilities to book now/pay later, up 2 U. If U book other hotels than below we recommend one close by. Craziness start/end from option 1.
PLEASE. Inform TSL what U booked!
Recommended hotels in Sofia 7-10 oct:
Sofia Palace Hotel by hmg (more stars)

Sofia place hotel by hmg (good value)

Vitosha Downtown apartments (share a party dungeon)
Recommend hotels Thessaloniki 10 - XX oct:
Egnatia hotel (it's red)

Mandrino hotel (a hotel)

Antigon Urban Chic Hotel (Feel rich at 5-star hotel)
SOFIA MARATHON
Book marathon (5, 10,21 or 42km) here:
https://www.marathonsofia.com/?lang=en
FLIGHTS
U can book flights now if U wish. B4 U buy, consider If U R doin a holiday of it n staying extra nights or flying in/off from other cities. When U have booked, please inform TSL flight n dates.
Here are some flights with prices as off (15/7):
7 oct fly direct with Wizzair to Sofia ca 450kr o/w.
7 oct fly via Belgrade with Bulgaria air 850kr o/w
RETURN from Sofia
10 oct fly direct to Skavsta Wizzair ca 250kr
10 oct fly via WAW to Arlanda with LOT ca 1000kr
RETURN from Thessaloniki
12 oct fly direct to Arlanda with Ryanair ca 850kr o/w
13-14 oct direct or via flights ca 1100-1500kr o/w
RETURN from other places
Use a flight search (flygbiljetter.se, flightsearch, etc).
COSTS
U book n pay for UR own fights n accommodation. A fee for craziness will be:
Bulgaria = €100 or SEK 1225

Bulgaria + Greece = €175 or SEK 2140

Airport transfer (7 oct 14:15) = €8 or SEK 100
Simply Add 8€ or 100 SEK to include transfer 7 oct.
*(Some R not joining for dinners/bus - please contact Minister of Corruption)
Please pay Sunday 10 September at the latest. The options are: Wise in EUR or Swish to Minister of corruption (MoC) 4-pack/Cecilia Petersson. Check FB event page for payment details or Contact MoC.
CRAZY MINISTRY 2023:
The following are appointed ministers as of now:
0. Supreme Leader - The Supreme Leader
1. Minister of corruption- 4-pack
2. Minister of chickens - Limp, Slicky Licky (Bulg) Marmite (gr)
3. Minister of alcohol - Dirty Dancer
4. Minister of propaganda - Pravda Queen
5. Minister of entertainment- not yet appointed ? Bad Pit?
6. Hares in Sofia STH 7/10 - Hardworn hymen & BMW?
7. Ass hare with Supreme leader in Bulgaria 9/10, Little Brother & SillyCon Feet
8. Hares for STH trail in Thessaloniki on 11/10 in afternoon, Dirty Dancer & Pirates
-Bonus - Minister of Translations, just Vivi Uzunova (but she doesn't know it)

----- BE SURE TO BE ON BELOW LIST -------------------
WHO R CRAZY - so far (3/9-23)
#
Hasher
Out
Sofia
Thessa
Back
R*n
1.
2SC
7 Oct 13:30 / Wizz
Palace
Egnatia
22 Oct / Olympic
2.
Ménage
7 Oct 13:30 / Wizz
Palace
Egnatia
22 Oct / Olympic
3.
Double Dick
7 Oct 13:20 / LH
Palace
Egnatia
13 Oct / Air Serbia
4.
Pucko
7 Oct 13:20 / LH
Palace
Egnatia
13 Oct / Air Serbia
5.
Big Brother
7 Oct 13:30 / Wizz
Palace
Egnatia
13 Oct / Ryan
Halfmara
6.
Big Mouth
7 Oct 13:30 / Wizz
Palace
Egnatia
13 Oct / Ryan
7.
Big Brother
7 Oct 13:30 / Wizz
Palace
Egnatia
13 Oct / Wizz
Mara
8.
Ditch Bitch
7 Oct 13:30 / Wizz
Palace
Egnatia
13 Oct / Wizz
9.
Ramblin
7 Oct 13:30 / Wizz
Palace
-
12 Oct / Wizz
Mara
10.
Nobby
7 Oct 13:30 / Wizz
Palace
Egnatia
15 Oct
11.
Miz Moneypenny
7 Oct 13:30 / Wizz
Palace
Egnatia
15 Oct
12.
Pole Fucker
6 Oct 12:05 / EasyJet
Palace
Egnatia
13 Oct / BA
13.
TomBoy
6 Oct 12:05 / EasyJet
Palace
Egnatia
13 Oct / BA
14.
Blow Queen
7 Oct 13:30 / Wizz
Palace (w/Silly)
Imperial Palace
TBD
15.
Hardworn
10 Oct / Bus
Palace
Egnatia
13 Oct / Bus
16.
Dirty Dancer
7 Oct 13:30 / Wizz
Palace
Egnatia
17.
Wet One
7 Oct 13:30 / Wizz
Palace
Egnatia
13 Oct
18.
Dip Shit
7 Oct 21:05 / Aegean
Palace
Egnatia
13 Oct
19.
4-pack
7 Oct 13:30 / Wizz
Palace
Egnatia
15 Oct
Mara
20.
Bad Pit
7 Oct 13:30 / Wizz
Palace
-
10 Oct / Wizz
21.
Just Helena
7 Oct 13:30 / Wizz
Palace
-
10 Oct / Wizz
22.
Slicky Licky
7 Oct 13:30 / Wizz
Palace (w/LIMP)
-
10 Oct / LOT
23.
Pirate
7 Oct 13:30 / Wizz
Palace
24.
Frozen Balls
7 Oct 13:30 / Wizz
Palace
25.
Hare Today Gone Tomorrow
7 Oct
Palace
Mandrino
13 Oct
26.
Foghorn
7 Oct 13:30 / Wizz
Palace
-
10 Oct / Wizz
27.
Laid Bird
7 Oct 13:30 / Wizz
Palace
-
10 Oct / Wizz
28.
Goes Both Ways
7 Oct 13:30 / Wizz
Palace
-
10 Oct / Wizz
29.
Little Willy
8 Oct
Rocentro (Sat @ Apt)
-
10 Oct to LON
30.
LIMP
7 Oct 13:30 / Wizz
Palace
-
10 Oct / LOT
31.
Dirty Lobster
7 Oct 13:30 / Wizz
Palace
-
10 Oct / LOT
10 km
32.
Old n Stiff
7 Oct 12:10 / LOT
Palace
-
9 Oct 18:00 / LOT
33.
Queen of Bender
7 Oct 12:10 / LOT
Palace
-
9 Oct 18:00 / LOT
34.
Pippi
7 Oct 13:30 / Wizz
Palace
-
10 Oct / Wizz
35.
Rosé
7 Oct 13:30 / Wizz
Palace
-
36.
Nordic Semen
7 Oct 13:30 / Wizz
(Yes)
(Yes)
13 Oct / Ryan
37.
BMW
6 Oct / Bus
Palace
Egnatia
13 Oct / Ryan
38.
Termite
6 Oct / Ryan
Palace
Egnatia
16 Oct / Ryan
39.
Marmite
6 Oct / Ryan
Palace
Egnatia
16 Oct / Ryan
40.
Just Leigh
7 Oct 13:30 / Wizz
Palace
-
10 Oct / Wizz
Halfmara
41.
Just Catta
7 Oct 13:30 / Wizz
(Yes)
-
42.
Sillycon Feet
7 Oct 13:30 / Wizz
Palace
-
10 Oct / Wizz
43.
Hulkalainen
7 Oct 13:30 / Wizz
Palace
-
10 Oct / Wizz
44.
Fluffy Bunny
7 Oct 13:30 / Wizz
(Yes)
-
10 Oct / Wizz
45.
Cockholm Syndrome
7 Oct 13:30 / Wizz
(Yes)
-
16 Oct / Wizz
45.
Steelbox
7 Oct 13:30 / Wizz
(Yes)
-
16 Oct / Wizz

Undecided
46.
Jingle Balls
47.
Moby Dick
---- Remember ---
Crazy Hash Trip is voluntary and on own risk money and health wise, but it's fun🤘🍺
--------------------

🔛🔛 TSL